Laser Hair Removal at Sona MedSpa is a safe and proven treatment to permanently reduce unwanted hair for nearly every part of the body. A common question asked is- will it work and is it safe for my skin tone? The short answer is yes- laser hair removal at Sona is safe and effective for virtually any skin color.
The science of laser hair removal is rooted in targeting melanin, also known as pigment, in the hair follicle. Because both hair and skin contain melanin, our clinically-trained staff members carefully evaluate each client before beginning treatment to determine the right course of treatment for their individual needs. The Fitzpatrick Scale and other best practices are used to determine which settings are needed on the

best-in-class

Soprano diode laser to provide the optimal results. This allows protection as the energy surpasses the skin and only targets the pigmentation of the hair follicle, ensuring a safe and effective treatment every time.


Why Laser Hair Removal at Sona MedSpa?
In our nearly 2 decades in the industry, Sona MedSpa has performed millions of laser hair removal treatments. Our advanced laser hair removal technology is safe, comfortable and a proven solution for removing hair from virtually any part of your body and keeping it off. With our medically trained staff and expertise, our clients trust us with making them feel beautiful and confident. Plus, with The Sona Promise, a promise you won't find anywhere else, we provide lifetime insurance on your Laser Hair Removal treatment.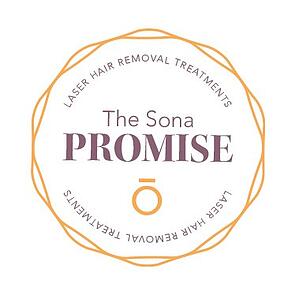 To learn more about Laser Hair Removal, Schedule your free phone consultation today!